With stark warnings about a potential shortage of turkey and goose this Christmas, our Executive Chef; Chris Heather has come up with a brilliant and delicious alternative for your Christmas dinner centrepiece.  All prep can be done up to three days before cooking.
Bird in a Bird with a chestnut, sage and walnut stuffing
Ingredients
1 x Gressingham duck
1 x corn fed chicken
1 x pheasant
500g sausagemeat
200g chopped chestnuts
100g chopped walnuts
200g panko breadcrumbs
5 diced shallots
2 bulbs crushed garlic
25g chopped thyme
8 slices Parma ham
10g Maldon salt
10g pepper
Kit
Butchers string
Meat thermometer
Method
Bone all three birds or ask your butcher to do this for you.
To make the stuffing, sweat off the shallots, garlic and thyme with a little oil and cook slowly until the shallots are translucent and not coloured. Remove and cool.
In a large bowl, mix your sausagemeat, walnuts, chestnuts, sage, breadcrumbs, 5g salt and pepper and your shallot mix and bind together. That's your stuffing done so set aside for later.
Pre-heat oven to 190c
Lay your duck skin side down on a clean tea towel and season the duck with your Maldon salt and spread a thin layer of your stuffing mix all over the surface of the duck. Keeping the stuffing mix as even as possible.
Lay the chicken on top, skin side down and season and again spread some more stuffing mix over evenly again
Lay the pheasant on top, skin side down and repeat again with the stuffing.
Now we need to roll. Using your tea towel to help begin to roll the duck as tightly as you can around the other two birds until you achieve a tight sausage looking shape.
Cut 8 pieces of butchers string and tie around the bird 1 inch apart to help keep the desired shape and to ensure the stuffing stays in place.
Place the bird on a large roasting rack and tray and massage in a good quality olive oil and salt and pepper. Cover with foil.
Cooking times are dependent on size, these are for a 3.5kg bird
Place in the oven on the middle shelf if possible and cook for 45 minutes, then reduce the oven to 150c, remove the bird and baste with the juices in your roasting tray.
Continue to baste every 15 minutes for the next 45 minutes.
Remove from the oven and carefully remove all the string. Drape over your Parma ham and cook for a further 15 minutes.
To check your bird is cooked, ideally probe the thickest and most central part of your bird and ensure it's up to 75c.  If you don't have a meat thermometer, pierce the same point and check the juices are running clear.
Leave to rest for 20 mins.  Slice and serve.
X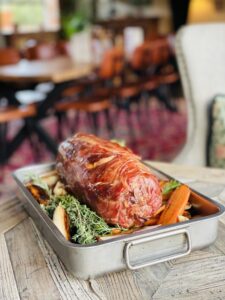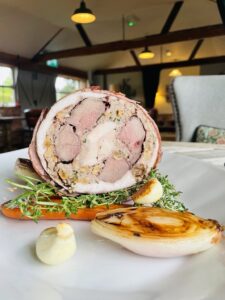 Enjoy and Merry Christmas!