Description
Wine tasting dinner with Journey's End
Thursday 22nd September
From 7pm
We've teamed up with the award-winning South African winery, Journey's End Vineyards to host a fabulous wine dinner on Thursday 22nd September, showcasing their unique wines from the prestigious Stellenbosch winelands.
For one night only, you'll enjoy this delicious four course menu created by Chris Heather; Executive Chef of Kimbridge Barn, paired with a selection of five outstanding Journey's End wines, lead through by the wine producer and Tom Hanson-Smith, Associate Director of Journey's End.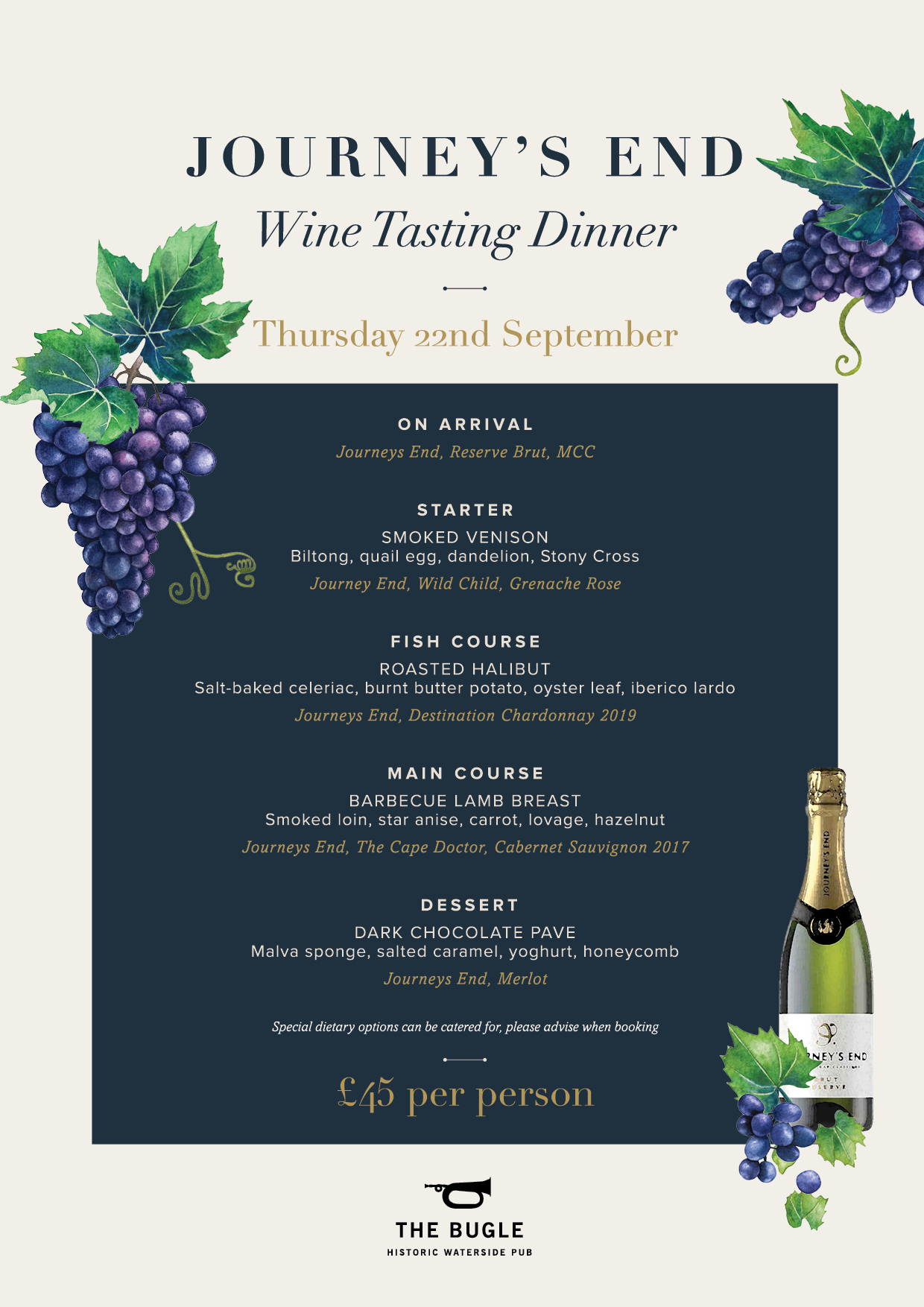 *Special dietary options can be catered for, please advise when booking
Cost is £45 per person and a deposit of £10 per person is required to secure your booking.
About Journey's End
Among the long rolling south-facing slopes of the Stellenbosch winelands, caressed by cool coastal breezes, lies the boutique winery and vineyard, Journey's End. With only a handful of premium, hand-crafted wines produced here, the focus is very much on quality.
In 1995 the Gabb family (originally from Shropshire, UK) took control of this  picturesque wine farm surrounded by 20 ha of gorgeous vineyards. They have invested  heavily in both the vineyards and the winery since then – with the estate growing to 120  ha by July 2011.
The family's philosophy is one of minimum intervention. The aim of which is to create top-quality, single-vineyard and appellation wines that intricately integrate the tension between remaining true to the terroir, and finding their own unique expression of it.  They are wholly committed to sustainably and ethically producing excellent wines for all occasions, across Journey's End Vineyards, Mount Rozier, Identity Wines and Gabb Family Vineyards.