Have you heard the news?!
Book now for the use of the outside space at any of our venues.
We should be able to come together again from 12th April and we couldn't be more excited to welcome you back!
The next few months
April 12th, 2021 – We are so pleased to be opening our outside spaces and welcome you back! We are so lucky to have this to offer you and rest assured it will be prepared for you to use in the safest possible way.
May 17th, 2021 – We will be taking bookings for you to go inside any of our venues and get back to enjoying our beautiful surroundings and the fabulous atmosphere that we have at each.
From the end of June, all being well, there will be no restrictions in place and we will be on our way back to a much more normal place. Please know that at every step we will ensure that your safety is at the forefront.
Covid19 
The Ideal six steps
Firstly, we would like to thank our loyal customers, suppliers and staff for their support over the last few months.
We are so pleased that our venues are back open again and returning to the 'new normal'.
Our fantastic teams have and will be working tirelessly to give the best possible experience that you have come to know and love.
However please be patient with us as this is new to us too! Regarding government guidelines expect to see the following 'Ideal Six Steps' we have put in place in each site, ensuring our customer and staff safety.
We are delighted to say we have now received the 'We're Good to Go' Certification from Visit England. This accreditation shows the extra steps and practices we have put in place to ensure we have a safe environment for everyone.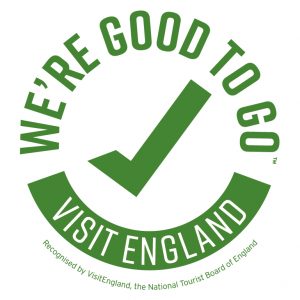 1. Training
Great staff start with great training
Our learning and development platform is delivered by Flow Hospitality including;
Staying safe

Cleaning and hygiene

Personal protection

Customer service
All returning staff have completed online training modules that are site-specific. On arrival to sites, we are recording the temperature of all staff members to ensure they are well and fit to work.
2. Track & Trace
Keeping track of where you are
Let us each play our own part by logging on to track our presence and keeping everyone as safe as possible going forward!
It's so easy to leave your details with us and the data collection complies with the requirements of data protection laws. Follow advice and assist in the government's efforts.
The Ideal Collection App

Track & Trace 
3. Risk Assessment & Stringent Hygiene Measures 
Our control measures
We operate each of our five sites with strict cleaning procedures which have only increased further since re-opening. Our control measures assist with minimal customer contact and ensure a welcoming safe environment for our customers.
Painted and decorated during lock-down months.

Deep cleaning procedures have been carried out at each venue.

Worked closely with chemical suppliers so we have COVID19 specific cleaning products for daily use.

Frequent toilet checks by staff members throughout the day.

Highlighted tasks that require staff wearing PPE.

Other small changes such as 

disposable menus and single use condiments. 
4. Hand Sanitiser 
Cleanliness for staff & customers
Hand santiser is available upon arrival and exit for all our customers and staff. There are units placed in our toilet facilities for ease of use. All staff have undergone cleaning and hygiene training increasing their awareness of the frequency of handwashing in between tasks.
Please take responsibility for your own safety and those around you by using this at every possible opportunity.
5. Our App
The Ideal Collection App
The Ideal Collection App is available to download for both iPhone and Android users.
The App allows customers to make a reservation, view menus, place contactless food/drink orders to their table
& contactless payment.
6. Physical Distancing
Distancing measures
We believe keeping the appropriate distancing measures is a joint effort between our staff and guests.
We have carefully placed furniture to allow for more space per guest and staggered the reservations, adhering to current government guidelines and minimising the spread of the Corona Virus.